Lighting plays a big factor. The color will look like it changes 3 to 4 times a day - with the light changing!
A little "touch-up" on some nice older cabinets:
I "Gold-Toned" this hardware!
It looks like antiqued gold leafing.
TOPS DONE. I am SETTING UP for THE BOTTOMS.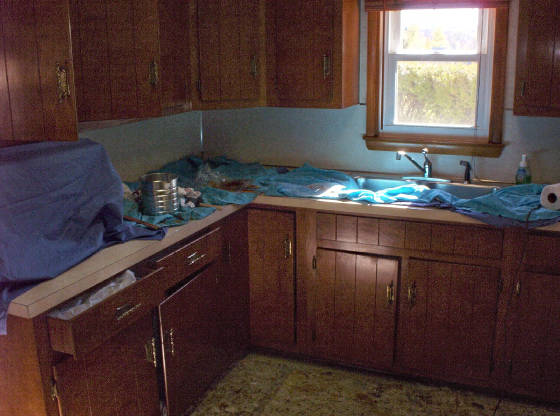 I am "GOLD-TONING" the HARDWARE as I go.
A beautiful set of knotty pine cabinets with a little wear. Before :
The finish worn off around the handles :
a few spots being repaired :
BEFORE :
Something was hanging here. It was removed.
3/4 DONE.
I have to put some toner on to blend colors yet.
and after :
My 2 companions on the job :
They were both - just GREAT...
Page 11.
Navigation - left, top.
Thanks for looking!
Copyright 2019 Bob Bachman. All rights reserved. Photos and website content.